PUBLICATION NEWS:
Pre-order HER REBEL HIGHNESS:
HER REBEL HIGHNESS, the second book in the DAUGHTERS OF THE DYNASTY series, is available for Pre-Order and will be out on March 29, 2022!
Pre-order from Third Place Books: https://www.thirdplacebooks.com/book/9781419749988
Pre-order from Bookshop.org: https://bookshop.org/books/her-rebel-highness-daughters-of-the-dynasty/9781419749988
Pre-order from Amazon: https://www.amazon.com/Her-Rebel-Highness-Daughters-Dynasty/dp/1419749986/ref=sr_1_2?dchild=1&keywords=diana+ma&qid=1632783592&s=books&sr=1-2
Order HEIRESS APPARENTLY:
HEIRESS APPARENTLY, the first book in the DAUGHTERS OF THE DYNASTY series, is out now!
Third Place Books: https://www.thirdplacebooks.com/local-authors/diana-ma
Third Place Books is my local bookstore, and they can ship to anywhere in the US. You can also request a signed and personalized copy online in the "Comments" section at checkout!
Bookshop: https://bookshop.org/books/heiress-apparently-daughters-of-the-dynasty/9781419749964
Bookshop is a great organization that supports independent booksellers!
Amazon: https://www.amazon.com/Heiress-Apparently-Daughters-Dynasty-Diana-ebook/dp/B08593XS92/ref=sr_1_1?crid=2BSK2Q1KEV3YM&dchild=1&keywords=heiress+apparently&qid=1628971005&sprefix=heiress+appare%2Caps%2C225&sr=8-1
EXTRACURRICULAR Coming Soon:
EXTRACURRICULAR, my debut middle grade novel, will be out in Winter 2024! https://twitter.com/McIntoshAndOtis/status/1417941671438868481?s=20
UPCOMING EVENTS:
February 8, 2022: King County Library "Meet the Author" Event: https://kcls.bibliocommons.com/events/61c0bad3e2c1434200895f79
PAST EVENTS:
December 3, 2020: Third Place Books Virtual Book Launch of Heiress Apparently in Conversation with Katherine McGee: https://www.youtube.com/watch?v=CxddOEFiKWA
December 10, 2020: North Seattle College Virtual Library Salon Book Talk
March 5-7, 2021: North Texas Teen Festival: http://www.northtexasteenbookfestival.com/festival-day
March 6-7, 2021: Tucson Festival of Books: https://tucsonfestivalofbooks.org/?id=1444
April 3, 2021 and April 10, 2021: TeenBookCon: https://www.teenbookcon.org/
April 24, 2021: Yallwest Book Festival: https://us02web.zoom.us/webinar/register/WN_h7qIQctPSXykCpAYgv4zhw
May 3, 2021: Asian Author Alliance's AAPI Book Month (AAPI Romance Panel): https://www.youtube.com/watch?v=nYoHsVglpok
May 15, 2021: Greater Rochester Teen Book Fest: https://www.teenbookfest.org
May 26, 2021: AAPI Heritage Festival, sponsored by Scarsdale Public Library
May 29, 2021: Asian Author Alliance's AAPI Book Month (Debut AAPI Authors Panel): https://asianauthoralliance.com/aapibookmonth/2021-aapi-book-month-participants/
October 2021: Las Vegas Book Festival: https://lasvegasbookfestival.com/Speakers/Detail/diana-ma
PRAISE FOR HEIRESS APPARENTLY:
"Soap-opera–worthy twists are grounded by ties to significant events in contemporary Chinese history in this meaningful debut." —Kirkus Review
https://www.kirkusreviews.com/book-reviews/diana-ma/heiress-apparently/
"A worthy addition to all libraries, especially those seeking nuanced books with Asian American protagonists."– School Library Journal
"More than a cute rom-com, this novel highlights LGBTQ+ rights, contemporary attitudes held by Chinese citizens, Chinese history, Hollywood's ethnic prejudices, and pride in culture and family. . . this is a fun start to a promising series."— Booklist
OTHER HEIRESS APPARENTLY NEWS:
Video of me reading the first chapter of Heiress Apparently!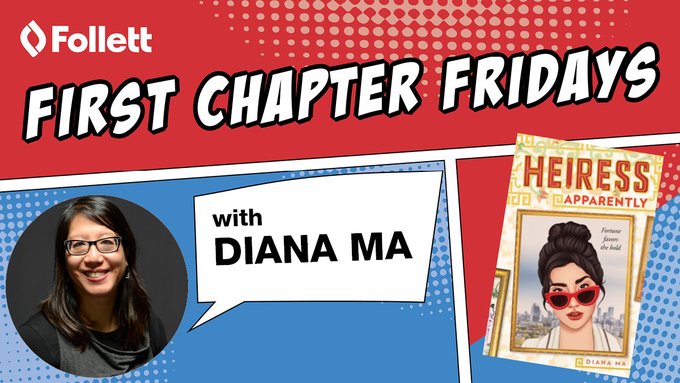 http://btb.titlewave.com/detail/videos/first-chapter-fridays/video/6195304654001/first-chapter-friday—diana-ma
Talking about Heiress Apparently on Books and Boba Podcast!
Pen and Story Interview by SCBWI Western Washington: https://www.penandstory.com/2021/02/18/interview-with-debut-author-diana-ma/
New Voices Interview in Cynsations: https://cynthialeitichsmith.com/2021/02/new-voices-roseanne-a-brown-diana-ma-on-creating-characters-that-mirrored-themselves/
School Library Journal Conversation with Angeline Boulley: https://www.slj.com/?detailStory=Diverse-Mentorship-Angeline-Boulley-and-Diana-Ma-in-Conversation
MEDIA:
We Need Diverse Books Guest Blog about My Experience with the WNDB Mentorship Program: https://diversebooks.org/sff-author-diana-mas-experience-with-the-wndb-mentorship-program/
We Need Diverse Books Guest Blog about Why I Hope Readers See Themselves in My Chinese-American YA Protagonist: https://diversebooks.org/why-i-hope-readers-see-themselves-in-my-chinese-american-ya-protagonist/
MORE PUBLICATIONS:
http://anmly.org/anomaly-31-citizenship-and-its-discontents/
Link to "Six Feet" Poem: http://anmly.org/ap31/citizenship-discontents-31/diana-ma/
School Visits
I love doing school visits and can offer several formats! For the present, all visits will be virtual.
For assemblies and larger gatherings, I can offer a 40 minute slide presentation on the importance of representation in children's books (with an emphasis on Asian American representation), followed by a 20 minute Q&A.
My presentation draws upon my experience as an author of YA and MG books with Asian American protagonists, my mentorship with the We Need Diverse Books organization, and my equity-minded teaching of Children's Literature, Creative Writing, English, and Intercultural Communication. I have over twenty years of experience as an anti-oppressive educator committed to social justice and culturally responsive teaching.
For individual classroom visits, I can offer the slide presentation and a Q&A, or I can offer short creative writing lessons and writing exercises. I can also mix and match!
Fees are available upon request. If interested, please reach out through the contact form below!
About Me
Diana is a Chinese American author who writes YA and MG books that feature kickass Asian American heroes. Growing up as a Chinese American girl, these were the kind of characters she hungered to find in books. She believes that it's important for all kids to recognize themselves as the heroes of the books they read. Her belief that diverse books help us create a better world is what drives her writing. She has two wonderful kids of her own and want them to grow up with books that represent them.
Diana was a 2019 We Need Diverse Books mentee with Swati Avashti and a 2021 Highlights Foundation Muslim Storytellers Fellow. Her debut novel Heiress Apparently was a 2021 Washington State Book Award finalist in the Young Adult Literature category. She has a BA in Creative Writing from the University of Washington and an MA in English with a Creative Writing focus from the University of Illinois, Chicago, and she is represented by Christa Heschke and Daniele Hunter of McIntosh and Otis. Diana lives in a suburb of Seattle and teaches composition, creative writing, literature, and humanities at North Seattle College.
---
---
---
---
Contact
Get in Touch
Twitter: @DianaJunYiMa
---